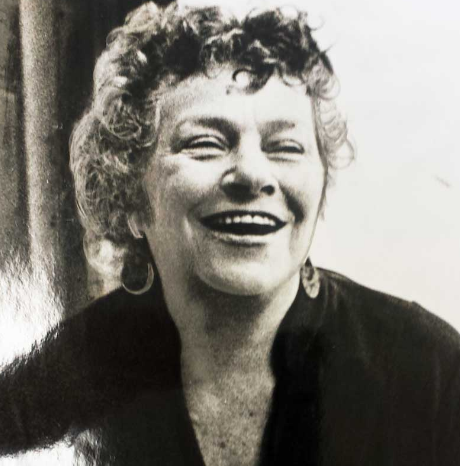 By the trending on my Twitter feed, it looks to be #InternationalWomensDay. Aside from a skeptical voice whispering to me that this is a day for misogynists to cover their tracks for whatever they're up to the rest of the year, I do believe it's good to call attention to worthy women who might otherwise go unnoticed.
One such woman is Viola Spolin. I call her the Godmother of Improv.
In 1927, she got a $7,000 grant from the WPA to start a children's theater on Chicago's South Side, near Hyde Park. And right away, she saw she had a problem. The children living on the South Side at the time, a roiling cultural stew of blacks whose families had moved there from the rural south, hillbillies from Appalachia, Slavs, Bohemians, Russian Jews, and the Irish and Italian toughies who'd been battling it out in the streets for a generation–these children did not like or trust one another one bit. There was no way they were going to perform a play together. They couldn't even get through a rehearsal without their deep-rooted animosities and prejudices [in Spolin's etymology, 'pre-judging'] boiling to the surface, making collaboration impossible.
Fortunately for Spolin, she had a mentor, a Sociology professor at Northwestern named Neva Boyd, who'd done pioneering work in the importance of play in childhood development. Boyd and Spolin had already developed a robust set of play-focused learning activities for Chicago's Hull House, a settlement house started by the renowned immigrant rights activist Jane Addams. And so Viola Spolin, to help her young thespians make the connections and build the trust required for a theater performance, began creating what are known in improv circles as 'The Games.' Hundreds of them. The Games became the foundation of improv theater in America.
There's a general perception in this country that improv theater is about comedy, where it has had its most visible commercial impact. This is in large part because in 1959, Spolin's son, Paul Sills, who'd grown up helping her rehearse and direct her children's theater productions, co-founded The Second City Theatre in Chicago, where he applied her games to the creation of comedy. Elevated them from rehearsal techniques to stage performance techniques. Created what Spolin called 'the phenomenal outcomes' and charged money for audiences to experience them.
Today, let's leapfrog back in time, to before 1959, when improv and comedy began their legendary duet, and remember Viola Spolin's original intention for her work: productive collaborations between multi-cultural children. Today, what she created is more important and urgent than it has ever been, because today we are all children in a multi-cultural world. And we are not getting along any better than those battling Depression-era kids at her theater.
We can all discover, as Spolin's children did, that structured play is the secret to our success. She said there were three constant outcomes from the playing of improvised games: Communication, Connection and Transformation. In an era where Communication is crazier and more biased than it has ever been; Connections are more tenuous and less meaningful; and Transformation can seem impossible…remember Viola Spolin and her intentions for the world. "I dream of a world of accessible intuition," she said. She knew that we could not think our way out of whatever bind we're in. We have to feel our way toward the possibilities. Sense them in order to see them.
In 2015, I spent two days at the Northwestern University library, where Viola Spolin's personal archives are kept. She was not what you'd call a writer, she was a note-taker, a commenter, a side coach. The gems of her genius are hidden in the margins. I found fragments of a poem she'd begun after the break-up with a man she called the love of her life, but had never assembled. I assembled it and gave it a title.
This is for all the women who fight every day to be seen, to be heard, to have their intuition trusted, their unerring instincts honored, their invisible work made manifest:
I Fought

I fought to see wood as wood

I fought to see fire as fire

I fought to see leaf as leaf

I fought to see me as me

I fought to see you as you

Alas!

I did not see wood as wood

I did not see fire as fire

I did not see leaf as leaf

I did not see me as me

I did not see you as you

In wood I saw animal form

In fire moving panoramas

In leaf faces upon faces

In me I saw you

In you I saw me

In all things,

Wood, fire, leaf, you and me,

I brought the images

Pushed them this way and that,

And like a child playing

Dressed everything to suit my fancy

– Viola Spolin