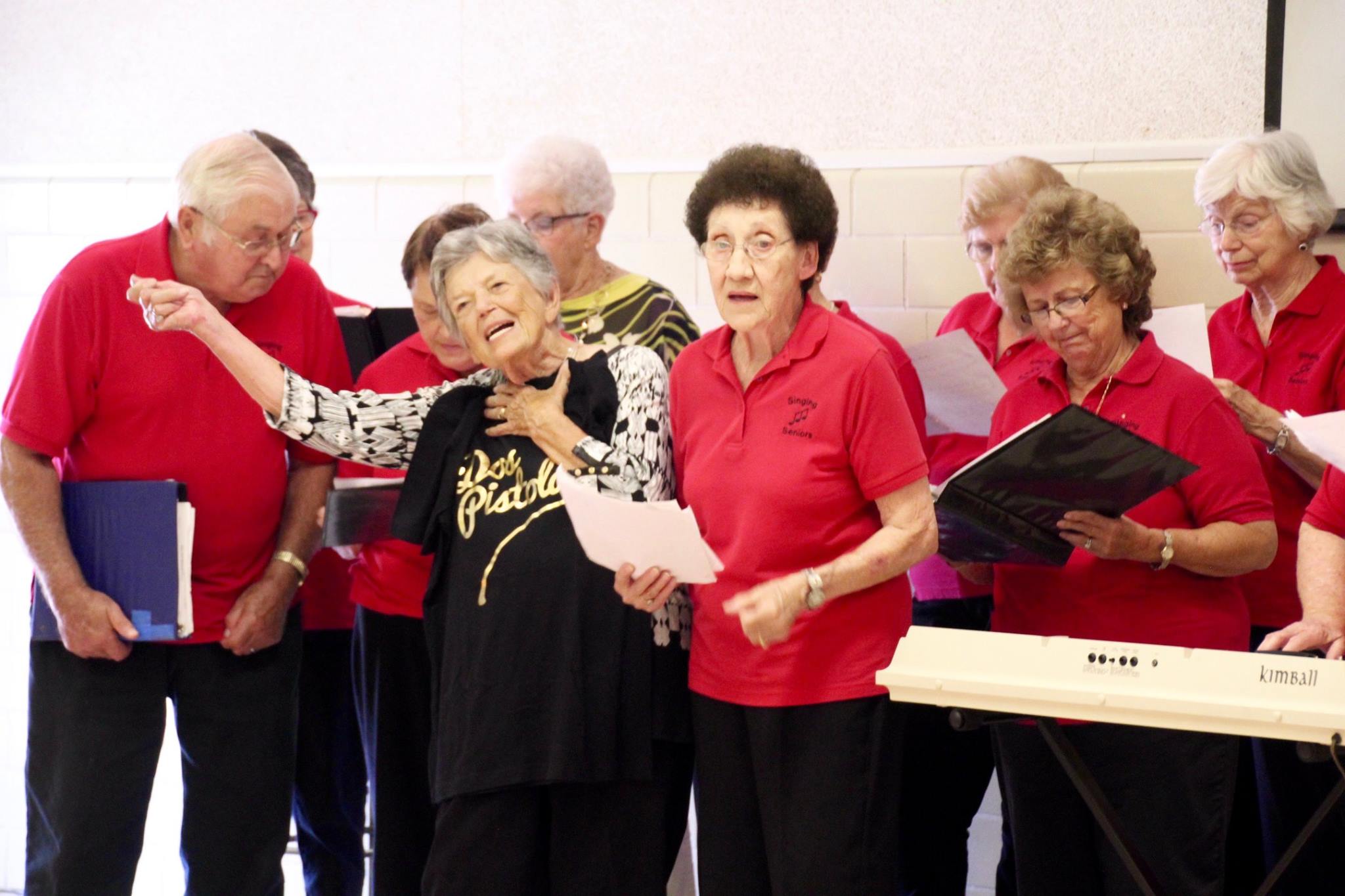 My mother, Fern, turned 90 years old on Saturday, August 19. My brothers and sisters and I threw a party that day back in Ireland, Indiana, near the farm where we grew up, in a community center that used to be our grade school cafeteria.
I think our mother is in her prime today. She is as active as ever. Beautiful as we've ever seen her. Her mind as active. It was a very happy birthday party. 200 people of all ages came from all over the U.S. to attend, including five of us from California. The local parish priest from ten years ago drove 70 miles so he could be there for 45 minutes. Her singing group, the Singing Seniors, performed three numbers, with Fern joining for two of them. No babies cried. There was a lot of laughter. Nobody made a snide remark, or expressed any kind of unhappiness or dissatisfaction. About anything. Everyone was extra-kind. Extra affectionate. Even people I know to be in physical pain were smiling that day. Nothing could deny us our happiness.
I wish I could say how Fern's love does its work in the world. Could come up with a formula or insight into how, having experienced an event as drenched in love as her birthday party, we walk on air for weeks. How time becomes timeless. How the nature of light itself changes so that everything we see and touch, and every other human being we encounter, is cast in the glow of that event.
I wish I knew the physics of Fern, so that I could understand how love opens doors we didn't even know existed, and how, when we walk through those doors, what we have been looking for and dreaming about can be sitting right there, smack in our path, like props and effects in a magic act a we had no idea we were capable of performing.
I wish I could explain it, but I cannot.
What I can tell you about the physics of Fern is that she has been a kind, and generous and loving person for every heartbeat of her 90 years, and on the day of her Birthday Party, and in the days leading up to it, we felt drawn to her and her story in wave after wave of emotion that carried us unquestioningly back to her, to be with her on her special day. It was effortless. Every decision was easy. All our priorities were in proper order. We all felt its lift. It was as if, in celebrating Fern's Birthday, we were all getting to revisit the best parts of our own lives.
I believe that her name, and the idea that ferns grow in fractal patterns is a meaningful coincidence. The two are somehow related, though I have no idea what that relationship is. All I know is that I see patterns emerge from previous patterns in my mother's life. I see meaning in every connection. Her handwriting and her quilting are related. The fact that she married my dad, and that she loves to gamble are related. The fact that she worked as a court reporter and that she's a great listener are related. That she can milk a cow and make it sound like music, that's a pattern. These related things flow in and out of one another, like a river running through and nurturing the terrain of our times together.
Birthday Ferning! —
Days ahead of her birthday, her artful neighbor, Sam, designs a huge Happy Birthday Fern banner that he hangs over the road leading to our family's farm, where Fern still lives. When Sam and I move the banner to the community center on the day of the party, we see that it's the exact length of the space between two buildings where Sam and I went to grade school. This gives us all sorts of things to recall happily while hanging the banner.
30 people who couldn't attend the party wish her a Happy Birthday on video, including John Lasseter of Pixar, Bill Kroyer who directed Ferngully [get it?], Ron 'The Gangsta Gardener' Finley, Zabeth Russell who passes out Fern's famous oatmeal cookies before her improv shows in L.A., and a group of Muslim American brothers from Philly and D.C. who are huge Fern Fans. Ron sends a t-shirt with his famous 'Plant Some Shit' saying printed on it, and my mom thinks it's hilarious.
A group of us sing a song that tells her life story in music.
That night, after the party, 30 or 40 of us gather at my sister and brother-in-law's farm, and  we roll into our never-ending family nickel-dime poker game until early in the morning. At one point, I lose track of my hat. Wonder what I've done with it. A few minutes later, my sister walks into the garage leading a miniature horse named Candy that's wearing my hat. I throw a handful of carrots on the poker table. The players deal Candy into the next hand.
Fern laughs at this. And even though she enjoys our little horse prank, she keeps an eye on the game, because she knows one of the players is annoyed by the miniature horse at the table. Not funny.
The next day, she gives my son, Alex, and his wife, FaranEbi, a quilt she made as a wedding gift. FaranEbi cries.
I may not know the principles that govern the physics of Fern, but I know what it looks like, know how it sounds, know how it feels.
The sound of it is her laughter.
The look is her caring eye on the game and its players.
The feeling is what we all experienced on her birthday weekend.
It is the unbinding of all possibilities. The de-severing of all that is separated. It is everything, connected, and all of us as one, on the river together, carried along in its joyous flow.