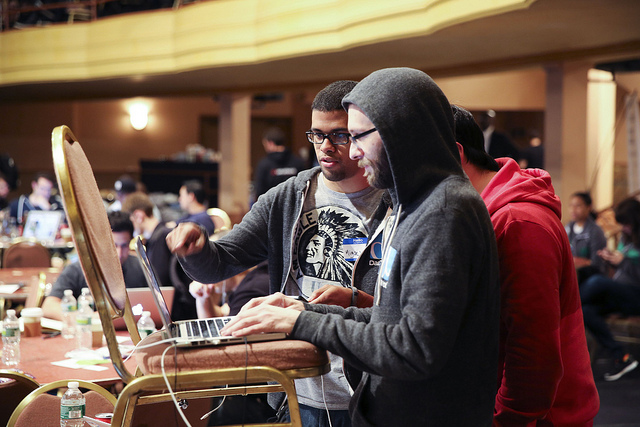 In a speech to high school counselors at a conference at Wheelock College in Boston this week, bigSTORY co-founder Jeremi Karnell posed this provocative question:
How much meaning can we liberate from a student's narrative?
What he said in response:
Collaboration is important. Your students are natural collaborators. They've grown up in a networked world. They were born connected. It's when they tell stories together, when their individual narratives connect with one another, that new meaning and artifacts emerge.

Play is important. Your students don't believe in how-to manuals. They learn by playing. The opportunity we have as educators is designing the kinds of learning games this generation of learners wants to play.

Listen. The real meaning of a student's story is hidden. You can't talk it out of wherever it's hidden. You have to listen it out.

This is serious. Their stories, and what they mean, have serious consequences. Take them seriously. The next two or four years cannot be a vacation from life, knowing there's a job waiting at the end of it. For most students, those days are over.

Celebrate change. What is change but difference over time? Differences are what these students do. They celebrate their differences. As educators, we can join the celebration by celebrating, not only the differences from one student's story to the next, but also the differences we see in this generation as they come into their own.
Jeremi's audience happened to be high school counselors. The same observations can apply to all of us. They're great reminders. Serious play in service of the new and emerging stories is where it's at. Where it's always been. No generation is more adept at seeing that as an opportunity like the next generation to enter the workforce. Prepared organizations will prosper.