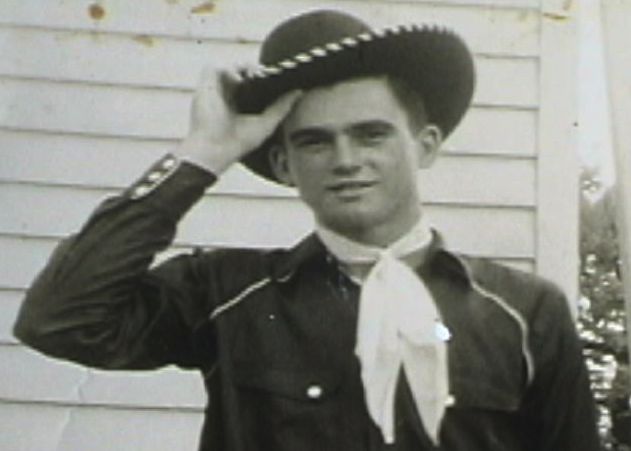 Our friend, Lee, who's a researcher at the National Institute of Health in Bethesda MD, visited us in L.A. last week while she was in town on business. We were socializing one evening when I mentioned that my father was a farmer from Indiana who dreamed of being a cowboy movie star. And Lee said, "My father WAS a cowboy star. He was a singing cowboy in Milwaukee when he was a boy. Jackie Kid Moore was his stage name.
Lee comes from a family of musical prodigies. When he was a boy, her father would perform in bars in Milwaukee. He was so good, and got so locally famous, that the family loaded all their belongings in a carrying wagon with 'Jackie Kid Moore' emblazoned across the back, and drove to Hollywood, to make the Kid a movie star.  He owned a famous Martin guitar, and gave guitar lessons to Gene Autry. Then his voice changed. The Kid was a kid no more. And that was that. The end of his showbiz career.
My father, known locally in southern Indiana as 'Cowboy Bob,' collected unwanted and broken down horses. We rehabilitated them, and turned our family's farm into a theme park centered around those cantankerous animals. Clover Leaf Park and Riding Stable, five miles southwest of Ireland, Indiana "Turn left on Highway Sixty Four a mile west of Ireland and follow the signs!" directed the announcer on our WITZ radio spots. It was like a movie in real life.
Lee and I bonded like brother and sister on this one fact–that our fathers were both make-believe cowboys. Jackie Kid Moore and Cowboy Bob were kindred spirits. It gave us a whole new level of rapport. Of common ground.
A fast connection like this comes about through what we call Meta language. Meta language connects one story to many. Having made our connection, via the Meta language of 'cowboy dads,' Lee and I instantly had a thousand new directions to take the conversation. (We chose to talk mainly about cowboy guitars.)
What does this mean to your organization's story? It means that using Meta language can instantly give you and your customers lots to talk about. A carefully crafted metaphor, analogy or symbol makes economical use of language, and gives you a thousand new ways to begin customer conversations, participate in their stories, and transact with them financially.