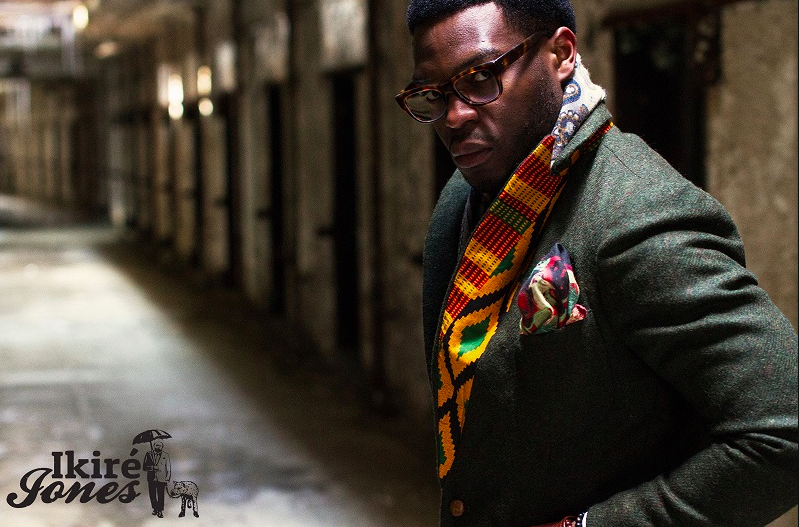 Back in 2015, our friend, Rasul Sha'ir, who's a fantastic trend-spotter and understands bigSTORY as well as anyone, told us to check out Ikiré Jones, a new clothing line out of Philadelphia.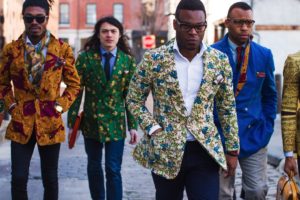 The reason Rasul knew we'd be interested in the Ikiré Jones line is that it was developed as a story. I got in touch with Walé Oyejide [pictured front right] the brand's founder, and interviewed him for bigSTORY story's magazine, ERGO. Here's the intro to the interview:
Walé Oyejide is the founder and CEO of Ikiré Jones, a fashion brand rising out of Philly.  Once he was a disinterested employee of Banana Republic. Later, an indifferent dresser as a successful Philadelphia lawyer. His girlfriend challenged him to up his fashion game. He did. GQ had him on their list of Five Best Dressed Professionals in 2012.
Imagination now on overdrive, he dreamed up a man living in West Africa in the year 2081. Named him Ikiré Jones. Wrote a series of sci-fi stories about him.  Quit lawyering and designed what Ikiré Jones would be wearing in the stories he'd written. That Afro-Futuristic wardrobe for the character became the genesis of the fashion line.  
 We kept tabs on the Ikiré Jones brand in the two years since, and our sense was that it was doing fine. Getting steadily more assured with its look, and more pick-up in the trade.
And then, two weeks ago, I saw this photo of the director, Ryan Coogler, from the Black Panther premiere.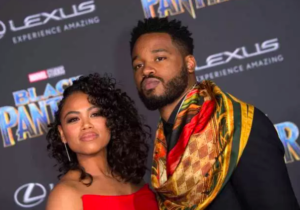 I thought, hmm, that scarf looks familiar. Sure enough, Coogler was wearing Ikiré Jones. And then yesterday, one of the Ikiré Jones models posted this in his Instagram feed.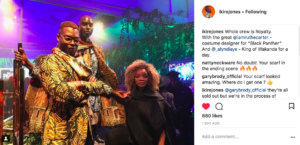 That's Black Panther's costume designer, Ruth Carter, and two models wearing what Walé Oyejide dreamed a man in West Africa would be wearing in the year 2081. It turns out that Carter dressed the King of Wakanda in Ikiré Jones for the film's final scene!
What has happened, in terms of the bigSTORY strategic model, is that beginning two years ago, Ikiré Jones placed smart bets in a story field defined by the theme 'Afro-Futurism.' Now Black Panther has come along and massively supercharged that field, and everything in it. As an authentic participant in the Afro-Futurist story field, Ikiré Jones can take a ride on the energy generated by the global popularity of Black Panther, and their acceptance by the Black Panther storytellers as being a legit character in its narrative.
The brand's participation in the Afro-futurist theme and the story field it defines will no doubt continue to be a big driver of Ikiré Jones' brand strategy, and Walé and his team can begin planning for another huge spike in demand during and after the 2019 Academy Awards.
Excerpts from the interview with Walé–
On the material stories are made of:
 Before I was a designer, I was a lawyer, before I was a lawyer, I was a musician. I was a vocalist and hip-hop producer. The story of hip-hop is kids in the inner city who didn't have access to instruments, didn't know what to do, so they would take their parents old records and sample the records and make something new. That was the way I started making music…and it's essentially the same way I make clothing. I oftentimes will mine from artwork from different parts of the world, and use these collage styles to make something new, tell new stories from old mediums.
 On creative inspiration:
There are people like you and me who can visualize things. We can see things in our heads. And we are fortunate in that way. But a lot of people need to be led, in the sense that they need to see something before they can conceive that they can actually do it themselves.
By creating new work that features people of color in a classical sense, we then inspire a new generation of people of color to create work of their own. It perpetuates forward like that. Using what's been made in the past and recycling it into the future. And it goes on and on.  And that's the quiet thing in what I'm doing. 
On Afro-Futurism:
 Afro-Futurism is a term. I'm not sure how new it is, but it's becoming increasingly popular.  It speaks to the idea of placing science fiction on the continent of Africa. Typically most science fiction films, some more so than others, will feature European people, with that slant. The idea is that this has been a neglected portion of the world where the future is concerned. People project stories about Africa into the future and it allows them to shape the world that they want to live in, rather than having these negative stereotypes that have been carried with us from the past for various reasons.
We now have a perception of what potential lies ahead, and with that potential, it affects what we're doing now.
Because we have had such a troubling past, if we can pre-write what's ahead of us, it will force us to align into that grid of what things are supposed to be like.
You can download the issue of ERGO featuring Ikiré Jones and the full interview with Walé here.
Tags:
Afro-Futurism
,
Black Panther
,
Branding
,
Fashion
,
GQ
,
Ikire Jones
,
Marketing
,
Merchandising
,
Story Field
,
Theme
,
Walé Oyajide